We want to be sure that everyone enjoys their stay at Crown Point Camping Area, so we have established a set of basic guidelines and rules that have been created in everyone's best interest. Please review these in advance of your stay, and let us know if anything needs to be called to our attention during your stay. We reserve the right to refuse service to anyone. Rates are subject to change without notice. Actions amounting to nuisance, hazardous conduct or excessive speed may be cause for dismissal. If dismissed from park, "NO REFUNDS".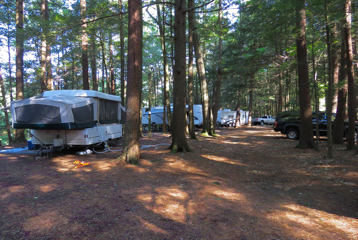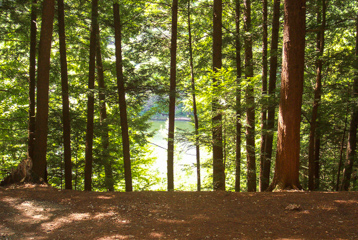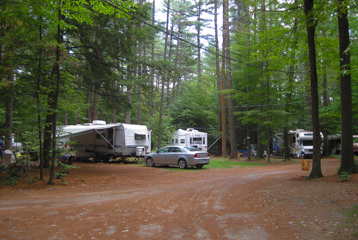 Rules
Our rates are based on a family of two adults and two children under 18. Extra persons will be charged $15.00 per night. A double charge applies for more than one unit per site. We don't charge extra for sunshine, please don't ask for a refund due to rain.
All visitors MUST check-in at the office to obtain a car pass ($). Visitors may check-in between the hours of 10:00AM and 7:00PM. All visitors MUST leave the campground by 9:00PM or be charged an overnight stay. Additional charges apply for visitor's use of the swimming lagoon. Registered campers are responsible for their guests.
Day visitors are limited to four (4) adults OR one (1) family.
Guests must be accompanied by one adult camper host while on property.
Campers are responsible for their visitors' actions at all times, are responsible for all charges they incur and authorize us to charge your account if they are not paid.
PLEASE NOTE: The campground reserves the right to limit the number of visitors per site in order not to overbook our facilities.
Visitor rates are posted at the office and can change due to demand.
NO VISITING PETS!
Check-in is at 2:00PM, check-out is 12:00PM. Please check with the office for early check-in or late departure. We will do our best to accommodate your request.
Please note: NO check-ins after 7:00PM.
FIRE RINGS ARE NOT TRASH CANS. DO NOT BURN TRASH. Keep fires reasonably small and do not move fire rings.
QUIET HOURS ARE STRICTLY ENFORCED: 10:00PM – 7:00AM, effective immediately. Report problems or disturbances promptly, don't wait until morning.
Bikes: For the safety of everyone, please wear a helmet and NO bike riding after dark.
Please do not damage our trees or vegetation.
We love your children, but you are responsible for them at all times. All children must be on their respective sites by 10:00PM.
The Playground and Octagon Hut close at dark.
Dogs MUST be on a leash at ALL TIMES. Please clean-up after your pet. Pets are not to be left unattended. EXCESSIVE BARKING WILL NOT BE TOLORATED.
5 MPH SPEED LIMIT IS STRICTLY ENFORCED. You're camping, no need to be in a hurry. Please watch for children and pedestrians. Park your vehicle off the roadways, no more than 2 cars per site. Additional parking is available near the office.
No electric heaters. We discourage the use of air conditioners and assume no liability for damage due to inadequate voltage.
Please help us maintain clean bathhouses by picking up after yourself.
Car washing is NOT permitted.
Please clean your site prior to checking out; it was clean when you arrived.
The use of golf carts and ATV's is not permitted in the campground.
FIREWORKS OF ANY KIND ARE NOT PERMITTED.
Most importantly, have a good time and respect your neighbors.
Disclaimer
All registered guests and visitors use Crown Point Camping Area facilities and amenities at their own risk. The Campground, its owners, employees, and agents are not responsible for loss, injury, or theft to persons or property while on the Campground premises. The Campground is not responsible for the acts of its guests and visitors, or acts of nature.
Please Help Us Preserve the Campground!
We look forward to welcoming you to our campground and will do everything possible to insure that you will enjoy your stay. Crown Point Camping Area is private property, and we reserve the right to terminate any stay at our discretion and for any reason. Possession or use of illegal drugs, excessive use of alcohol, loud and vulgar language, disorderly conduct, possession of fireworks, or any illegal activities are all grounds for immediate expulsion.
Youth Outings
Scout Troops, 4-H Clubs, and any other recognized youth groups are welcome.
Please call the Main Office for pricing & information.